Turbine Generator Health Assessments
April 30, 2020
by
TGA
in Case Studies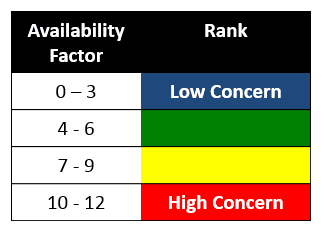 Turbine Generator Health Assessment Background:
TG Advisers began its health assessment program in 1991 and has completed over 350 turbine generator assessments to date. Our database of units includes steam (nuclear, fossil, biomass) and gas turbine (aerodervative and industrial) units across all major OEM's, vintages, and outputs ranges (8 MW to 1,500 MW+). In recent years, the health assessment program has been applied to balance of plant equipment, boilers, ID fans, and cooling towers.
Assessment Goals:
Establish current unit condition – function of design and past/future duty cycle
Define turbine generator problem areas and assess each for severity and likelihood of occurrence.
Define actions, outage scope, and capital needs to mitigate key asset risks
Allow for integration directly into plant workflow systems
Provide financial return with improved availability and optimizing outage and maintenance intervals and scopes.
Establishing Unit Condition:
TGA leverages decades of OEM, utility, and consulting experience in conjunction with plant operations and maintenance interviews, outage report reviews, and operational data assessments to establish unit condition.
Unit Specific Problem Areas:
TGA divides a given turbine generator unit into on average 50 "Problem Areas". Problem areas are failure modes and chronic conditions judged to be of concern. For a steam turbine, problem areas are segmented by turbine elements, valves, generator, and system. The advantage of breaking the unit into "problem areas" is that all background/history and actions for a given issue that could impact the availability of the unit is contained in a single location.
Each of the approximately 50 problem areas will be evaluated for unit specific history and trends, inspection findings, part replacement history, effectiveness of past repairs, and TGA's experience on like units. In the next step of the assessment, the respective problem areas for a given unit are assigned weight risk rating.
Problem Area Risk Analysis
When considering risk, TGA considers both the likelihood of occurrence as well as the duration of a forced outage and/or outage extension if the respective issue is encountered. Multiplying the risk (severity) by the probability of occurrences yields a weighted "Availability Factor."
The resulting availability factors range from 0 to 12. As part of the health assessment, a color map is provided of all unit "Availability Factors" to drive priority of spend and scope.
Figure 1: Availability Factor Range
Figure 2: Snapshot of Availability Factor Roll Up
Outage Interval Evaluation, Outage Scope, and Troubleshooting:
Based on the availability factor roll up, past/current duty cycle and mode of operation TGA will provide recommended outage intervals and scopes. In addition, TGA will provide troubleshooting recommendations and key contingencies for unit specific issues as part of the assessment.
Financial Return:
Value is derived in multiple ways from a TG Advisers health assessment. A example list is provided below:
Bridges knowledge gaps due to staff retirements, turnover
Increased availability and reduced forced outage costs
Identifies major risk areas
Enables contingency planning for emergent issues
Mitigates short term repeat outages
Allows for a T-18 Planning Process

Critical spare parts identified and procured
Allows time to develop comprehensive repair scopes and competitive pricing options
Mitigates expediting costs

Targeted outage scopes – often opportunities for reduced outage scope and/or extensions beyond standard OEM outage recommendations.
Facilitates long and short term capital and O&M planning
Fosters timely post outage updates

Captures lessons learned, best practice integration
Optimize outage intervals
Ongoing monitoring recommendations

Integration of best practices and lessons learned from other sites with like units.